With over a decade's experience performing and promoting sponsors around the globe 3SIXTY's event services have proven to offer fantastic value time and again.
3SIXTY have performed at every possible type of event over the years: festivals, fetes, galas, live TV shows, recorded TV shows, in music videos, at national sporting events... Even private displays requested by international ambassadors.
3SIXTY can perform indoors or outside, in the sunshine or the rain, we've even performed in a highland storm when no other act would and the climatised crowd were waiting to be entertained!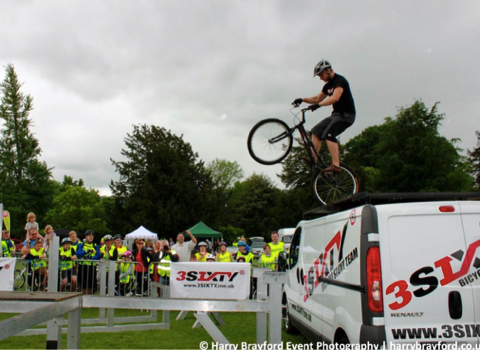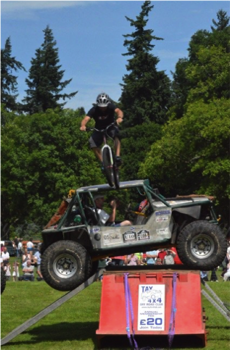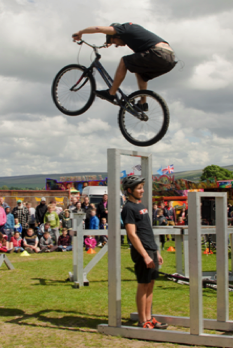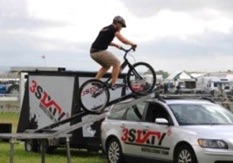 National Events Service (Gala, Fete, Fair, etc...)
Our most popular service since 2003 with over 2000 performances delivered at more than 600 events!!!
Schedule
Up to 4 x 25 minute all weather displays.
Interactive coaching and obstacle course challenge delivered to the public free of charge between displays.
Requirements
An ideal space of 25 meters x 25 meters with fencing.
Can adapt to larger arenas and ground conditions.
Rates
From £1000 plus travel at £0.50 per mile, please contact us for an all inclusive quotation.
Notes: We always endeavor to participate in all special requests... From joining in with a 4X4 truck show to simply riding along with a village parade, we love to join in with the community spirit all day long...
Client Testimonials;
Catherine Smith, Sustrans North East
"We were really happy with your service – the crowds really enjoyed your displays. With regards to your service in general, I have found you very professional, reliable and quick to respond when I have had queries which has helped me tremendously. I would certainly recommend you to anybody looking for a stunt team."
Bob Hoy, Sunderland County Council
"Excellent, the most popular feature at our event"
Lee Ferry, A690 Youth Projects
"Amazing, we could barely watch when you rode the ladder but you made it look easy, a brilliant show"
Jim Milne, BT Event Coordinator
"It takes a combination of lots of people and positive attitude to put the WOW factor into something like a corporate family day and I would just like to take this opportunity to say thanks for helping put a big WOW factor into our family day."  
Isabel Kerr, Dunlop Gala Ayreshire
"We have had nothing but praise for our Gala day and many of the comments said that the highlight of the day was the 3SIXTY bike display. Even those people across the road could see you as you jumped of the very high points. Many thanks for a spectacular addition to a great day." 
Natalie Martin, Sustrans Southampton
"Thank you very much for your great service again.  3Sixty always arrive on time, smiling (whatever the weather) and do outstanding performances every time."
Martin Pellow, Bath/Somerset Council
"The riders from 3Sixty put on a fantastic show for Sky ride Bath.  There were a number of 'heart in our mouths' moments which really engaged the onlookers.  The 3sixty package was a great addition to our event and we are looking forward to seeing what tricks and stunts they come up with for next year!"
James Edwards,
Penistone town gala
"Many thanks to Ian and his team for performing for us at Penistone Mayor's Parade and Gala Day. They were more than happy to ride as part of the parade, performing tricks on the way round! The 2 shows that they performed on our Gala field were very slick and professional, with an added element of humour. The crowd participation stunt was particularly daring - and something we won't forget in a hurry! We would be more than happy to invite them back in the future."
Mabel Gaudie,Orkney West Mainland Agricultural Society
"We are delighted that the Guinness World Record your team performed at the Dounby Show has now been confirmed. 
It was a pleasure doing business with you. You arranged everything so efficiently and it was hassle free.  The contract and paperwork were all carried out promptly and it was very clear what you required prior to your arrival. 
This is the second time you have performed at the Dounby Show for us and we would be delighted to have you again in the future.
All the very best for next year."
Big Air & Extreme Village Service
This adrenaline fueled show combines trials displays with BMX jump box and flatland, the ultimate display of skills and thrills.
We can also supply DJ's, free runners, scooter teams and skate boarders to deliver a full 'Extreme Village' service.
This self contained spectacle offers a hassle free solution for city centre promotions and large scale events.
Schedule
Performances and coaching delivered all day long.
Interactive coaching and obstacle course challenge delivered to the public free of charge between displays.
Requirements
An ideal space of 40 meters x 20 meters.
Very firm and level ground, concrete is ideal.
Rates
From £1500 per day plus travel, please contact us for an all inclusive quotation.
"I just wanted to say on behalf of Sustrans thank you ...What can we say?...Thanks for coming over and blowing everyone away...You guys are insane...but in a very good way!"
Ross McGill
Sustrans Area Manager, Derry, Ireland
Bespoke Services... (Official Guinness World Records, Brand launches, Stage Shows, etc...)
Every year we deliver a hand full of truly unique packages, from world record breaking stunts and huge brand promotions to small cycle shop sales and brief stage shows.
Whatever the occasion we love to mix things up and take on a challenge so please contact us to discuss your ideas and we'll work hard to make it happen
Here are a few examples of our past efforts...
Brand Promotions
The mighty Mountain Dew claimed our service as their own for the Sea Sessions Festival.
We aren't tied to any corporate sponsorship so if you would like to brand us up for your event it's no problem at all....
Product Launches
At a recent cycle trade show, ONZA Bikes asked us to do some promo shots on their new kids bike aimed at 8 years old and under...
Seems to work pretty good for bigger kids too!
Stage Shows
Most of our equipment can be used indoors and is very adaptable to small spaces.
Even a simple bunny hop competition offers a great spectacle with zero set up time.
Shop Promotions
We've adapted to hundreds of tiny car parks over the years in order to add an exciting twist to retail promotions.
Here we battled through snow and hail to give Keswick Bikes a promo boost..
Booking FAQ's
What about Health and Safety?
It's all covered, we have a client website dedicated to all the paper work you need to keep the red tape at bay, simply download and share with your team. Please contact us for client site log in details.
How much do you charge?
Rates start at just £395 for educational services and £800 for peak time events, you can view all our packages and rates on our client site, please contact us for your login details.
What if it rains?
We perform in all weather conditions. However we do reserve the right to change our performances whenever we have safety concerns.
Can you perform on any surface?
Yes we can perform on pretty much any surface, please contact us if you have any concerns.
How long is a show?
Around 30 minutes
Do you perform the same show several times a day?
We add different challenges and stunts to our displays to keep crowds entertained throughout the day.
Can anyone take part in the interactive test track?
Pretty much anyone can, however we do reserve the right to refuse entry to anyone we deem to be dangerous.
Can you accommodate special requests?
Indeed we can, typically an event might ask us to ride in their village parade or make announcements through our PA system. We have several sets of display equipment, PA systems and over 20 riders around the UK that we can call upon to accommodate any event requirements however large or small.
Can you help us promote our event?
Upon booking you will receive a promo file with images and interview copy text ready for your promotional onslaught.