Can stunt displays really be an effective way to promote cycle safety?!?!?
During a 3SIXTY display riders tackle obstacles with precise, calculated and effortless leaps. Riders never appear out of control and actually deliver the show commentary through helmet microphones whilst riding. These skills can only be achieved through hundreds of hours of dedicated and safe practice, a message we convey throughout each 3SIXTY display.
Our exciting displays capture a young mind and allow targeted messages to be conveyed effectively, 3SIXTY riders are role models making cycle safety and helmet wear 'cool'.
The Fun and Exciting Way to Promote Cycling and Healthy Living.
Suitable for pupils of all ages with targeted messages to suit (from helmet awareness & safe cycling to entrepreneurialism & achievable goal setting)
Over 10 years experience performing worldwide at events and in education
Qualified in Safeguarding Children and Supervising Health & Safety
All equipment and insurances are supplied
Displays can be performed indoors or outside
All weather displays!
Transparent and all inclusive rates offering fantastic value
Workshops and training sessions to get pupils on bikes and having fun
From just £395.00 + VAT
For more information please view the video and FAQ's below. Then email us for your password into our clients area where you can download an array of documents covering everything from terms & requirements to Health & Safety.
Booking FAQ's
How much do you charge?
Rates start at just £395.00 during the peak summer months from May to September, discounts are available at other times. You can view all our packages and rates on our client site, please contact us for your login details.
What do you require?
An ideal space of around 15m x 15m. However we are flexible and are happy to adapt to the schools wishes.
What if it rains?
We perform in all weather conditions. Although we can also move our equipment indoors if preferred.
Can you perform on any surface?
Yes we can perform on pretty much any surface, please contact us if you have any major concerns.
How many shows do you provide?
Upto 6 depending on requirements and time used up with skills workshops.
How long is a show?
Around 30 minutes
Can anyone take part in the interactive test track?
Pretty much anyone can, however we do reserve the right to refuse entry to anyone we deem to be dangerous.
Can you accommodate special requests?
Indeed we can, a school might typically ask us to deliver a desired message within our commentary or take part in media coverage, we are willing to go the extra mile and endeavor to participate in all requests.
Can you help us promote our event?
Upon booking you will receive a promo file with images and interview copy text ready for your promotional onslaught.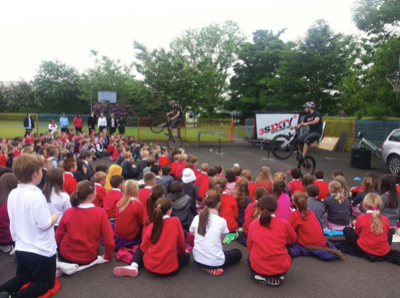 Mrs Vayro, Laurel Avenue Primary School, Durham
"An amazing display and an excellent professional service, thank you for everything."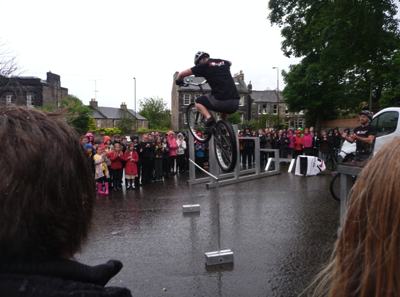 Oscar Stanton, Macmillan Academy, Middlesbrough
"I was totally impressed with the awe inspiring stunt show, your approach to the students and the enthusiastic manner in which you ran the training sessions. Our students and staff loved it. The skills displayed in the stunt show were incredible and the year group were quite literally spellbound by what they saw. Very impressive. Thank you!"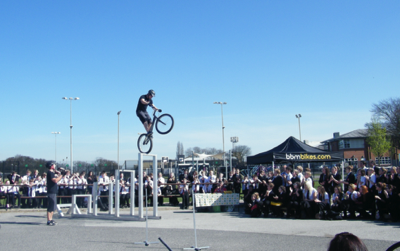 Julie Harris, Head Teacher, Seahouses Middle School, Northumberland
"I'm very impressed by your whole operation, I would definitely recommend you after providing this once in a life time experience for our pupils which has inspired many of them to persevere with cycling, even when the going gets tough."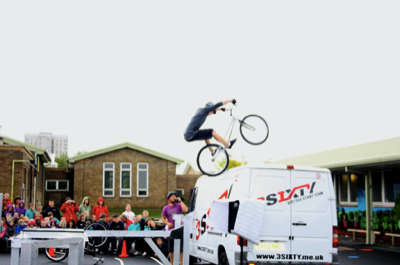 George Storey, Student Support Officer, Hookergate School, Northumberland
"I would just like to thank you again for the absolutely breathtaking display which 3Sixty performed at school on Wednesday. Speaking to staff and students who saw the event they were absolutely stunned by the various stunts you performed. I would also like to comment on the way you emphasised the safety aspects and the amount of training which has allowed you to reach such an incredibly high standard."